The Metcon Bible© e-Book
$34.99
Description
Maui Athletics® The Metcon Bible serves as a compendium of metabolic workout circuits for people from all walks of life.
It is a guide for coaches, functional fitness athletes, physique athletes, sport athletes looking to improve speed, agility, quickness, and power, those working out from home, and those looking for a variety of workouts to stay active even from hotel rooms on vacations and business trips!
The Metcon Bible© is an invaluable tool that is easily portable on your smart phone, laptop, and tablet. Over 150+ exercise circuits and growing!
*As a bonus, all future editions will be
FREE
for download with initial purchase!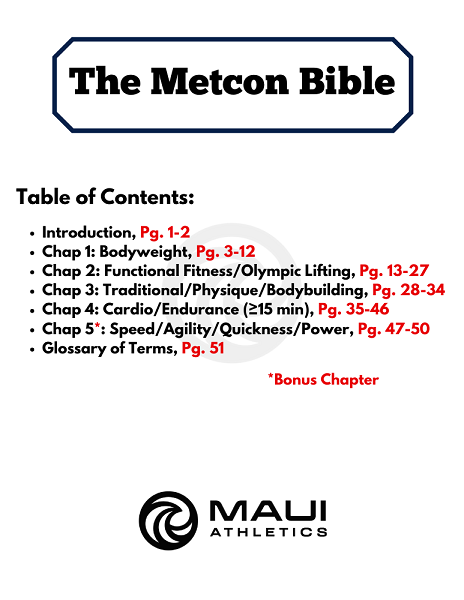 Second Edition © 2020 All Rights Reserved*Free future editions of
The Metcon Bible
are valid only for the email address associated with initial purchase from MauiAthletics.com and are non-transferable. Limit: 1 download per version. Sales are final and there are no refunds as this is a digital product.